---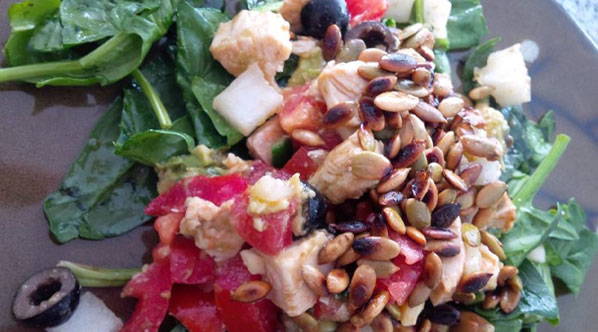 Recipe (36:00 -38:58): Tomato, Avocado, and Cheese Salad
Celebrate your leftovers? Really? Yes, really! On vacation recently, I needed to clean out the fridge and use up all the leftovers. I created this super-delicious, super-quick and hearty dinner and it was a big success! You can plan to make this, but I think it works a lot better when you're using what you already have – waste not, want not!
The recipe is adaptable to what you have on hand, but here is what I used:
1. Diced avocado, tomato, onion, peppers, raw old cheddar, and leftover cooked chicken, plus sliced olives
2. Tossed with a dressing of Goodness Me! olive oil, AC vinegar, fresh minced garlic, oregano, Real Salt, pinch of cayenne
3. Served over mixed green leafy vegetables (which also were tossed with above dressing).
4. Topped with toasted pumpkin seeds, which I seasoned with olive oil and salt.